Aaron McGranahan
As an owner of Precision Racing, Aaron shares the responsibility of keeping all work to a high quality standard, whilst maintaining budgets set by the customer. Aaron's background is extensive and includes fitter/machinist, electrical trade, Cert 3 in mechanical engineering, Cert 4 Engineering trade and Cert 3 Electrical trade.
With a background of strong mechanical, electrical and hydraulic knowledge, which all apply to vehicles, combined with a love of motorsport, has pushed Aaron to want to supply the market with a  difference. A love for technology and advancements in materials and electronics is Aaron's driving force to create quicker, faster and more reliable street and track cars. Staying ahead of the game, not just in it.
Expertise:
Multiple trade – Fitter/machinist, electrical and engineering
Driver
Engine building
Manual transmission rebuilding
Dyno tuning
Fabrication/welding
Mechanical/electrical fault finding
Online/phone tech support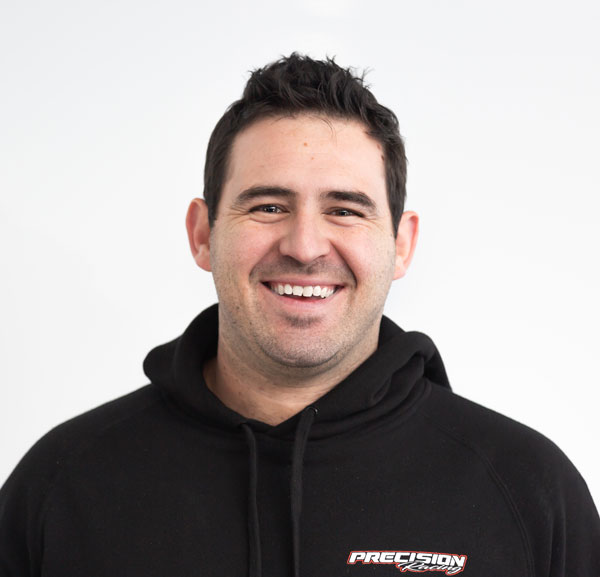 Joe Tummarello
Also an owner of Precision Racing, Joe shares the responsibility of maintaining a high quality standard on all work completed within the company. Coming from a Motorsport Background Joe has gained his knowledge through work at his father's engine machining/assembly workshop and years of work within a professional top fuel drag race team. This background has built a strong base for all mechanical, tuning and diagnostic knowledge within the performance aftermarket industry.
Joe's passion for performance and technology is what drives him to further improve the modern day street car market. There shouldn't have to be a compromise between performance, reliability and drivability! we can have it all!
Joe has also previously established Hoon Tune which grew to be one of the country's leading Falcon/Barra/ZF6 Building and tuning workshops, perfecting packages for the BA-FGX model range. This knowledge, development and his team have been brought forward to Precision Racing to continue to grow and offer the ultimate overall customer experience.
Expertise:
OEM style re-calibration/tuning of factory engine and transmission computers
Aftermarket Ecu Dyno tuning
Electronic Automatic Transmission Building and development, ZF6hp26
Engine Building
Driver
Mechanical/electrical fault finding
Online/phone tech support
Jaesn Black
Jaesn has been in the motorsport industry since completing both his mechanical trade and auto electrical trade in 2012. Lucky for us, he was looking to further develop his knowledge on newer and more technical vehicles, starting his career with Precision Racing in 2014.
Expertise:
Dual Trade – Auto mechanic and auto electrician
Engine Assembly
Gearbox building – manual and DCT
Complete vehicle assembly
Motorsport wiring looms
Mechanical/electrical fault finding
Fabrication/Welding
Justin Schmidt
After finishing his trade in 2013 as an automotive mechanic, Justin has a broad knowledge within the performance automotive industry, from Japanese turbocharged systems to American/local V8 injected boosted systems, if it's fast, he is interested. Justin loves Fabrication, and completes 90% of the fabrication we do, all within our facility.
If you see some badass fab work on our builds, it was most likely Justin's fancy work.
Expertise:
Automotive mechanic tradesman
Fabrication/welding
Engine assembly
Gearbox building – manual and DCT
Complete vehicle assembly
Anthony Matos
Anthony has been working within the motorsport and performance industry for over 5 years. Recently joining the Precision Racing team, Anthony has fit right in utilising his range of skills from general mechanical to performance driven enhancements. He has been able to gain a wealth of knowledge through his previous industry experience on a wide variety of cars and in building his own VL from the ground up.
Expertise:
Automotive mechanic tradesman
Complete vehicle assembly
Mechanical/electrical fault finding
Engine Assembly
Ricky Rigutto
With a passion for all cars, from Japanese to American to Exotic, Ricky is a proud member of the Precision Racing team, being the forefront of customer relations and service, he is also the man behind the camera displaying all the cool stuff we do here and on track or at events.
With 10 years' experience within customer service/sales, 5 years of automotive photography and being a well-respected team member within his previous role in business finance, Ricky is an absolute asset to the Precision Racing team.
Expertise/ Personal accomplishments:
Customer relations
Service manager
Social media
Sales + Marketing
Automotive Photography/Videography
Matt Kopp
Matt has been lucky enough to score a much desired position at Precision Racing in 2018 to start his apprenticeship as an Automotive mechanic within a highly respected and valued Motorsport/performance company. To meet our standard of quality, respect and willing to learn on such a broad range of vehicles, it came to surprise to us all that we finally found an apprentice that fits right in.
Personal accomplishments:
Completed 12 months of engineering degree at University of technology Sydney, before realising his love for cars meant he wanted a more hands on touch with mechanical systems.
National Ice hockey player
Completed year 12 schooling
Ryan Stratton
Starting out as a keen customer in 2017, Ryan showed his value as a MoTeC ecu and electronics customer, who would wire up and get cars running before sending them to us for tuning.
Our relationship with Ryan grew, and was welcomed to the Precision Racing team in 2018.
Expertise:
Ryan's day to day work is revolved around I.T and when required, electronics & ecu wiring, however don't be fooled, Ryan is not shy to remove engines or transmissions and strip down and getting his hands dirty.
Cert 3 in Information technology I.T
Cert 4 in Business
Wiring/MoTeC systems setup
Web developing
Tech Support